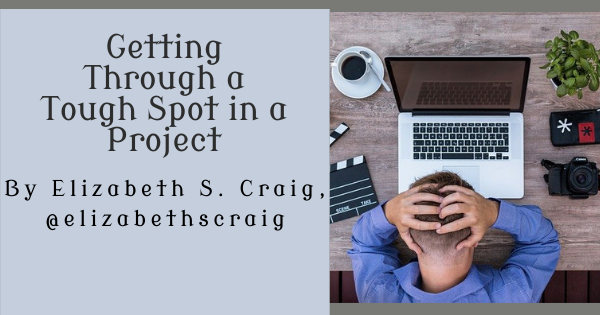 Elizabeth S. Craig, @elizabethscraig
Every once in a while, everyone hits a rough patch in their manuscript. You may have sailed through it easily. Then, suddenly, you stopped. For whatever reason, it ruined your progress through the book.
Here are five ideas on how to do it:
Skip the scene that creates the problem. Sometimes you may not be in the right mood to tackle a certain scene. Or maybe you're not quite sure how you want to go about writing it. Instead of waiting, you can simply skip that scene and move on to the next one, keeping the project moving forward.
Work backwards from where you feel good. Let's say you're really stuck. . . perhaps in the middle of your book (a common question for writers). Maybe you know the ending, but you don't know how to connect where you are now to where you want to be at the end of the book. Consider working backwards from the end to the point where you got stuck.
Write on paper. I'm not sure what it is, but something about handwriting can really help me understand complex scenes. You can try writing a few paragraphs on paper and see if it makes a difference.
Think of ways to get through it. I also like to do it on paper. Basically, I'm just making a list of all the different ways a scene can go. Then I choose one of them. . . and then will usually use bullet points (like a sheet) for the scene to make sure I can view it when I get back to my laptop.
Set a timer if you are working on a difficult scene. As with any difficult task, it can make the job easier knowing that you will only be working on it for a limited time. It definitely helps me get started when I know there will be a definite end point. A timer set for ten minutes (or even five if you're really committed) can help.
What do you do when you hit a dead end while working on a book?
5 tips on how to overcome difficult moments in a project: Click to tweet
Image by Lucas Bieri from Pixabay