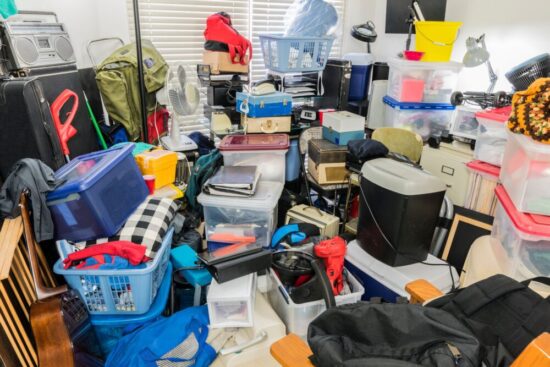 Hoarding often affects a person's life much more than they realize. One negative impact this usually has is on a person's finances. Hoarding can lead to overspending in a few different ways. In addition, it can increase expenses in various areas, which will cause damage to the budget of the person on both sides. If you're wondering how that works, here are nine reasons why hoarding is bad for your finances.
1. Spending on items you don't need
One of the biggest downsides to hoarding is the tendency to buy things you don't need. Many hoarders don't just collect things they come across for free; they buy things they are going to keep. As a result, they are more prone to overspending.
How this happens can depend on the nature of the accumulation. However, this is a common feature, and it can significantly hurt the budget.
2. Losing what you have
When hoarding reaches a level where a person cannot keep track of what they already have, they may forget that they previously purchased a particular item. When this happens, the likelihood that they will buy it a second, third or fourth time increases. This can lead to significant financial waste.
3. Storage of extra things
Hoarding takes up a lot of space, sometimes to the point of impacting a person's budget. One way hoarding can affect your finances is that it can require you to buy a larger home that you would otherwise need, increasing your housing costs. You also can't take advantage of certain money-making opportunities like renting out a room through Airbnb because it's full of clutter or your home is generally unpresentable.
If you need to store things outside your home, you will face new costs. Buying a backyard storage shed comes with a price. The same applies to the rental of storage space.
4. Improper placement of mail in a mess
Depending on the severity of your hoarding, the amount of clutter can cause the mail to be out of place. Although it doesn't seem like a financial problem, it can have money-related consequences. For example, you may miss a check that was sent as compensation or a gift. Accounts can also be misplaced, increasing the likelihood of late payment and the fees, penalty rates, foreclosures and more that often come with it.
Sloppy mail can also mean you're missing out on savings opportunities. For example, you might miss a coupon or sale ad that includes an item you want. As a result, you may end up spending more than if you saw the discount.
5. Growth in health care costs
In some cases, the accumulation can create unsanitary conditions. Mold and mildew can occur when items contain moisture, potentially leading to respiratory problems. Hoarding can also lead to pests, including insects and rodents, which can also harm your health. For example, rodents and insects can carry dangerous diseases, some of which are potentially fatal.
Hoarding can also lead to increased stress levels. You may also have trouble maintaining a healthy diet if your kitchen is full of things, which can lead to health problems.
Addressing any health problems caused by hoarding will affect your budget. Medical care can be wasteful, especially if you need an ambulance or other forms of emergency care. By forgoing savings, you can potentially avoid certain health problems, allowing you to reduce your health care costs.
6. Increase in insurance rates
How much you need to pay for renters or homeowners insurance directly depends on the value of all your belongings. This means that accumulating can lead to higher rates, mainly because you have a lot more things to insure.
Now, this is usually only true if you update your policy to match your purchases. However, if the tendency to hoard is related to items that have real value, not doing so means that the coverage is not adequate to what is needed to address the loss.
7. Lack of refinancing opportunities
When you refinance a home, your lender may require an appraisal. If this is the case, an appraiser will need to enter your home and assess its condition. If you have a habit of saving money, this can limit your refinancing options.
Many people with a habit of saving want to avoid others entering their home, forcing them to bypass lower interest rates to make it unnecessary. For those willing to let the appraiser in, their accumulation could cause the appraised value to drop, which could prevent a refinance or otherwise change the outcome.
8. Struggling to sell real estate
It's like hoarding makes a house harder to sell. If the items are not removed, it will affect the buyer's perception while browsing, resulting in fewer offers.
In addition, severe hoarding is often associated with avoiding situations where others may enter the home. As a result, maintenance issues are common and can further reduce the home's value.
In some cases, hoarders may only receive offers from investors willing to deal with the consequences of hoarding. Since investors usually intend to flip the house or rent it out, they are not going to offer anything close to top dollar.
9. The condition of the item causing the damage
When hoarding, properly storing items isn't always part of the equation. As a result, the stockpiles tend to deteriorate. For hoarders who view their purchases as investments, this means that they are hurting the resale value of the items because they are not taking proper care of the items.
While most hoarders likely have no intention of selling, when the time comes when they want to part with the item, it won't have the same value. In some cases, even collectibles, the value may drop below what the hoarder paid, resulting in financial loss.
Can you think of other reasons why hoarding is bad for your finances? Have you experienced any of the above disadvantages and want to tell others how it was? Do you have any tips to help someone overcome their tendency to hoard? Share your thoughts in the comments below.
Read more:
Get back to what you love! Dollardig.com is the most trusted cashback site on the internet. Just sign up, click, shop and get a full refund!