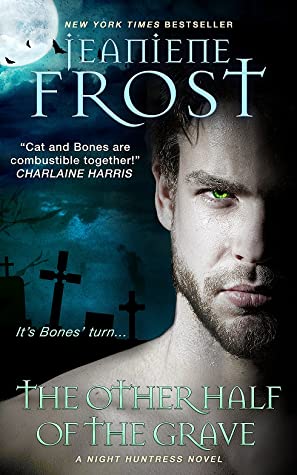 27thousandJuly
Sophia Rose is here with The Other Half of the Grave by Janine Frost. Return to the beginning in the world Beyond the Grave. Come and find out why you will love this trip down memory lane…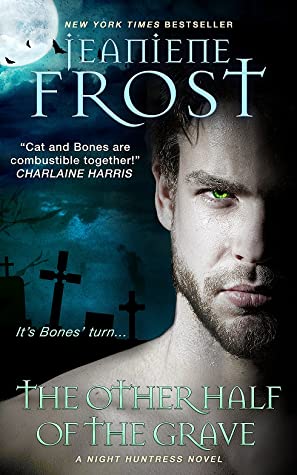 The second half of the grave
by Janine Frost
series: Night hunting #1.1
Genres: Urban fantasy
Source: Publisher
Purchase*: Amazon | Audible *branch
rating:

Heat level:
From the New York Times bestselling author of the Night Huntress series comes a thrilling new take on the iconic origin story of Cat and Bones, as experienced by Bones…from the other half of the grave.

There are two sides to every story, and sizzling British alpha vampire Bones has a lot to say…

Have you ever wondered what Bones was thinking and feeling when he and half-vampire Cat Crawfield first met? Or how their story might have been different if he had told it? Now relive the beginning of Cat and Bones' love story from Bones' point of view, which reveals a darker and sexier look at their early days, as well as a deeper dive into Bones' past, the vampire world, and other things Cat didn't see when their story was told only through her eyes in Halfway to the Grave.

The cat had his say. Now it's Bones' turn.
Review by Sophia Rose
Janine Frost took readers back to the beginning and told how it happened from the perspective of her vampire hero, as well as his background and his world.
On the other side of the grave written so that both newcomers and veterans of the series can pick it up and enjoy it. Told in parallel with Halfway to the Grave and a small portion of One Foot in the Grave, Bones' story is well suited to be read before, after, or while reading those books from Cat's point of view.
Bones is an old master of vampires, and he's tracking down a vampire who can give him the information he needs to solve a big vampire problem. But as soon as he tracks down the guy, a female vampire hunter cuts him off from the information. However, in a stunning twist, he learns from the woman that she is actually a rare half-breed who has no idea about his world and only barely kills all the vampires in a grim quest to kill her motherly love.
Normally, Bones would quickly end a man who willy-nilly kills his kind, but he falls in love with a foul-mouthed woman from the very beginning, so he decides to turn all this hatred to his advantage. He can't sneak up on some of the vampires he needs to question without making them run or want to cough up the information he needs to complete his mission, but this gorgeous human-like woman can waltz in and just look like juicy food .
So the learning begins and this mismatched pair reluctantly and provocatively partner up on more than one level.
On the other side of the grave was a fun waltz down memory lane. It's been years since I read the Night Huntress series, especially the Cat and Bones books. I found that reading this refreshed my memories, but provided more detail than I remember the first time around. Kat had to learn about the vampire world, which was half of her heritage throughout the series, while Boney was already a senior vampire master. Cat had to find out what was going on, what Bones was investigating, while the reader can see the case from the point of view of Bones' knowledge. And it was absolutely fascinating and fun to see their relationship and romance through Kosty's eyes.
Confession time: I loved the Night Huntress series, and sometimes I could barely stand the Cat herself. I admired her plucky nature that stood strong and picked herself up when she was knocked down, but not her stupid, unnecessary choices or her talkative behavior and stubbornness at the wrong time. Switching perspectives matters. This one felt more dark and sad because Kosti is not a young intellectual, but I think it softened the experience to the right tone.
But, oh, how terrifying and sexy. This carried over into both books. It's definitely a big money reason to have it from Kosti's point of view. The vampire turned me on and bothered me next to the Cat. Please tell me what will happen next…
All in all, it was exactly what I was hoping for and makes me want to pick up and re-read large parts of the first books. Urban Fantasy fans should definitely cross the Night Hunter series off their bucket lists, and fans shouldn't miss this side-by-side book that features Bones' point of view.
The other half of Janine Frost's grave ticked all the boxes. #bookreview #SophiaRose #UrbanFantasy #NightHuntress Click to tweet

Stay caffeinated!
Never miss a message by adding Contains caffeine to your mailbox