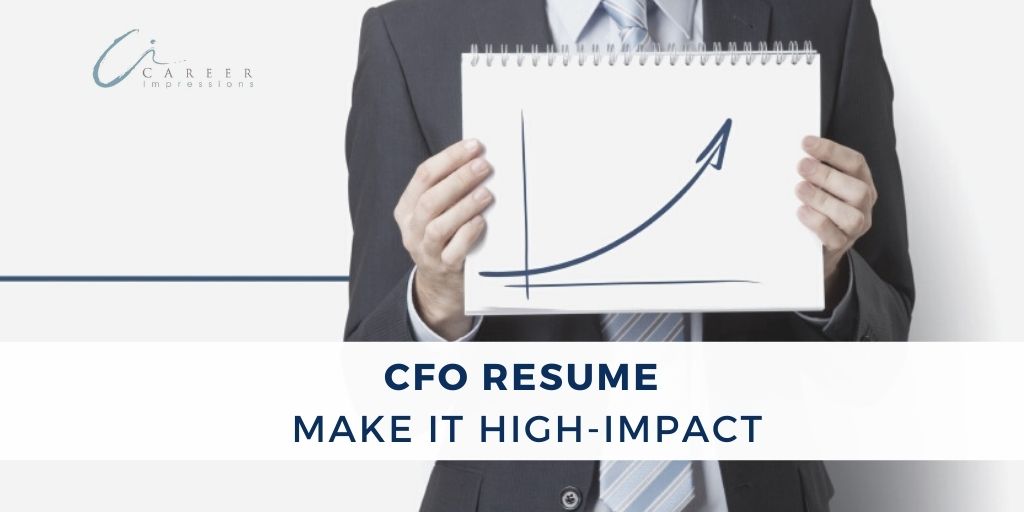 You're a top producer, which means you need a resume that also delivers. If you're sending out your CFO resume and not getting the responses you want, chances are you need to do some work.
A CFO resume should demonstrate uniqueness and high value by presenting the candidate as an astute business leader who is well informed as to current financial and corporate tasks. Apply these 3 strategies to increase your value and impact your CFO Summary:
1. GET CURRENT
If you haven't looked for a job in a while, chances are you've fallen behind current job search trends. Today's CFO resumes include strong strategies and polished presentations to stand out. Some important tactics include:
Be brief. A densely packed resume can do you more harm than good. No one wants to read a "career obituary" (everything ever done and every role ever held). Think of a concise marketing tool and make every word count.
Keep it focused and relevant. Eliminate long job descriptions and summary reviews; it is a given. Define relevant career content that demonstrates a solid understanding of the role's requirements. Qualify your content carefully and only communicate details and specifics that directly address the needs of your readers.
Keep it loaded with results. Package power claims with accurate metrics for massive impact. High achievers need examples to prove it frontal statements for more impact:
Collected 34 million dollars in Venture and Corporate Finance after 3 years.
Agreed to purchase for $21 million with an additional capital investment of $6 million.
Earned 40 million dollars additional cash by identifying and eliminating insufficient assets.
$50,000 saved annual software maintenance and license fees by implementing updated software.
2. KNOW YOUR WORTH
CFOs typically follow a similar career path and share many skills and values, but no two are alike. Why should YOU be chosen to make financial decisions in this top corporate position? Spend time thinking and calculating your "10% difference". What makes you unique?
Dig deep to determine what makes you an authority in your industry, and provide examples of where you've accomplished this. You need to convince high-level recruiters, boards, committees and executive management that you can make a positive financial impact on the business.
Provide concrete profit and revenue gains, cost savings or streamlined efficiencies to support your claims and skills. You can't just claim to be good at something, you have to prove it.
Develop a strong value proposition to summarize the high-level experience and work to support that statement throughout the document. Target branding or value propositions include:
CHIEF FINANCIAL DIRECTOR
IMPLEMENT FINANCIAL PROCESSES FOR FORTUNE 500 COMPANIES | $300 million in SAVINGS | BUDGETS up to $2 billion
---
or….
CHIEF FINANCIAL DIRECTOR
Expert in the field of venture and corporate financing | Income and business expansion | M&A administration
Drives operational and financial efficiency as a trusted advisor and partner, generating more than $40 million in annual savings. Connects entrepreneurial companies with venture capital for growth business efficiency.
---
3. SHARPEN THE PRESENTATION
Senior executives need crisp resumes that look polished and professional. Use thoughtful layouts and design elements (diagrams, graphics, or color) to make your resume stand out at first glance.
Put it on a graph. Visualize increased revenue, increased profit or productivity, or cost savings. Graphs or charts often speak louder than words.
It's a bullet. Instead of heavy blocks of text, put "size" and easy-to-digest bullet points. The difference can be dramatic. Here's a comparison:
Previously:

Looking for areas to improve and increase income. Identified and negotiated a $6 million acquisition that ultimately resulted in a strong return on investment (approximately eight times the return on investment over a five-year period).

after:

Led negotiations on the acquisition for the amount of 6 million dollars which generated 8x return on investment within 5 years, strengthening income potential.
Above-the-line content is clearer, key details jump out, and verbosity is drastically reduced.
As a top result generator, you likely don't have enough time to properly update your resume, so don't risk being passed over to the top; entrust your project to a trusted professional.
A top performer like you understands the return of a good investment and the cost of a bad one. Your career is too valuable to play with a resume that may never work. Work with a professional to ensure ROI: www.CareerImpressions.ca