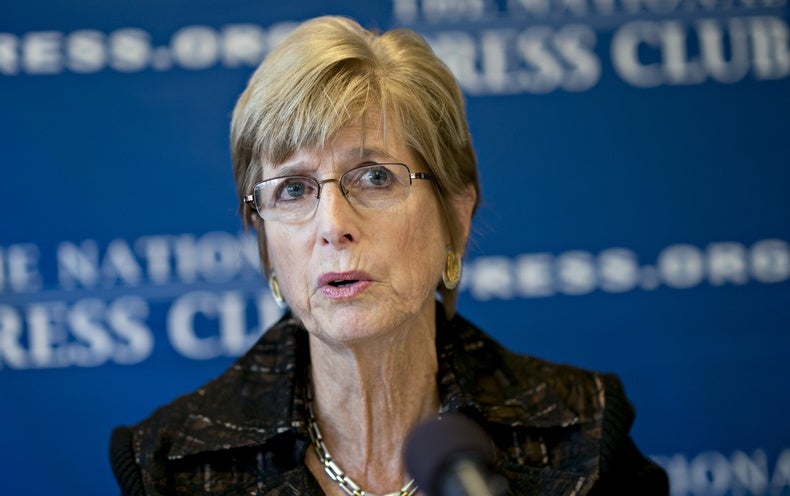 A recent Supreme Court ruling that the US Environmental Protection Agency does not have the authority to regulate emissions from power plants will seriously hamper US efforts to slow climate change. So says Christine Todd Whitman, who served as EPA administrator under George W. Bush for three years and was New Jersey's first female governor. Whitman says the ruling would also damage global confidence in US climate action, which could weaken the resolve of other big polluters such as India and China to cut their own emissions.
In an interview with Scientific AmericanWhitman called the court's decision a "slap in the face" for America and predicted it would make regulation more cumbersome and expensive. Industry lobbyists and political ideologues have repeatedly challenged the EPA's rules since Republican President Richard Nixon established the agency in 1970.
Whitman says the EPA will have to find creative ways to continue its mission, and that the main push for clean energy will have to come from the states.
[An edited transcript of the interview follows.]
Conservatives on the Supreme Court say the EPA shouldn't regulate power plants broadly because Congress didn't mandate the agency to do so. True or false?
The EPA is blamed for many things. Early in the Bush administration, we introduced a pollution bill that provided the first real restrictions on mercury, and we couldn't even get Congress to hold hearings on the bill. Assuming that now Congress will suddenly reverse course and listen to the science and make these important decisions for our health, I just don't understand the Court's reasoning. In truth, the agency would rather have Congress act on climate change than deal with it strictly through regulation, because regulation always ends up in court, and that takes forever and costs a ton of money [to litigate]. Meanwhile, bad actors just keep doing what they do.
Is the court naive, or does it expect that there will be no effective regulations if it is left to Congress?
I think it's the latter. I fear that the court is pushing a political agenda. Instead of dealing with the cases that naturally come before them, they turn to lower court decisions that they can make that will help further the movement toward deregulation. In their rulings, they ignore Supreme Court precedents. The EPA won't stop there. You'll see how that translates into the Food and Drug Administration — how we scrutinize food and drug safety. Energy companies, big industry, big pharma and the like are the ones pushing this Court agenda.
Is all this déjà vu? You ended up resigning when the Bush administration ordered you to loosen pollution regulations.
That's right. Ours [EPA] the scientists told me one thing, and the administration said that the benchmark should be set elsewhere. I kept getting numbers from them that were not based on science, but clearly came from the utilities themselves. So I left the agency.
It's a thankless job.
I defined success as being attacked by both sides, because then I felt I was where I needed to be.
After the power plant ruling, you tweeted, "Today's Supreme Court decision puts the responsibility of deciding what's best for human health on a Congress that has no idea how to analyze scientific data." Are we losing the ability to use science to inform policy in the US?
Unfortunately, we seem to be.
Between 2016 and 2020, the EPA lost 672 scientists. Has the Biden administration been able to attract back the talent the EPA needs to function?
Not at all. The problem is that too many people in these agencies require Senate confirmation. They really shouldn't because they don't make decisions that require that kind of control. There are a number of positions that are still unfilled because they have not gone through the audition process.
If Congress fails to act and the administration is stripped of its regulatory powers, who will be left to govern?
The future will be in the states. Now they're going to have to be more protective because Congress just isn't going to do it. Look at New York State: Just yesterday, the governor [Kathy Hochul] signed a law requiring the state to cut carbon emissions by about 90 percent. States will act.
Are you worried that attorneys general in some red states have been emboldened by the court's decision to challenge other EPA regulations?
Undoubtedly. At one point, one in four candidates for state attorney general declined to run. An awful lot of them are running for secretary of state, state attorney general, and governor. And if you elect a bunch of people who are very conservative and want to take things back, they're going to be able to do that.
Michael Regan, President Joe Biden's EPA administrator, says the Supreme Court ruling is "disappointing" but "it doesn't take us out of the game" and "we're going to use every tool in our toolbox" to fight carbon pollution. What are these tools?
The ruling will force them to deal with it piecemeal, with less precise rules, rather than what they could do with a broader regulatory approach.
What about the legal remedies that EPA can use to continue fulfilling its mandate?
I am not a lawyer; I would leave that to the legal department. Believe me, they will look for all ways to solve this problem. The current White House has rightly taken responsibility for climate change — for example, housing has changed building requirements like in New Jersey and New York to make buildings more energy efficient, to make appliances more energy efficient. These are the things that will have to be done.
Will the court's decision stun the EPA's willingness to even propose ambitious new rules knowing they will likely be struck down?
This can have a devastating effect on the agency's recruitment of young scientists. But the people already there are dedicated professionals, and they're going to continue to do everything they can to move the mission forward.
Under the Paris Agreement, the US has pledged to cut emissions in half by 2030. How likely is it that we can meet that promise now?
Very unlikely. And the rest of the world is starting to wash its hands of us, which is very worrying because it means other big polluters like India and China are going to say, "Well, if the United States isn't going to do it, we've won, don't do it either." This decision sets everyone back. Other nations no longer trust us. So that we have some influence when we go to these COPs [global climate change] meetings are becoming increasingly problematic.
Opponents of regulation sometimes argue that it is bad for the economy. But isn't the industry counting on the government to come up with clear policies that will give it the confidence to make long-term investments?
Undoubtedly. That's what's so upsetting about the court's decision. The industry does not want to meet the regulatory standards of 50 different states and three territories. If they have the same rules here, there are others – it's a nightmare. It is very expensive, which means that the products are more expensive. It's stunning. You have a Supreme Court that is said to be conservative; you'd think they'd want to save people money, not to mention save lives! It will take us several years to fully understand how profound this impact is, how far-reaching it is. It's a body blow in more ways than one.
So what's next for the EPA?
EPA will continue to do its best. And also good actors in the industry. We cannot walk away from our duties, our responsibility. But we will have to be more creative about it.