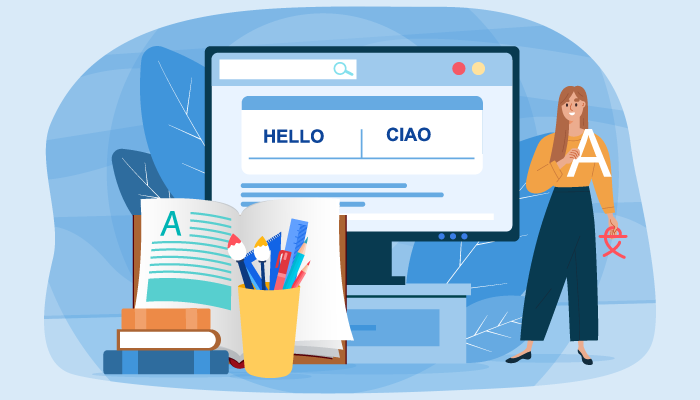 This article contains affiliate links. If you use these links to purchase something, we may earn a commission.
---
Philology is the study of languages, an especially important sector of the science and research industries. Philologists draw upon vast and disparate expertise to interpret and investigate languages in texts, from many different eras. The role is complex and requires a good understanding of languages and history, but there's a lot more to it than that.
If you're thinking about becoming a philologist, then this article will introduce you to the career, along with insights into what to expect, as well as practical information regarding the role and how to get started.
Here's how to become a philologist.
What philologists do
Philology is sometimes known as linguistics, but this is only part of what is covered. It is the study of the historical development, structure and syntax of languages over time.
It's broken down into four main subfields, each one focusing on a specific specialty. Classical philology, for example, is the study of ancient or classical languages, while comparative philology involves the analysis of two or more different languages alongside each other. Word philology, on the other hand, concerns the study of the origins of particular words and, finally, textual philology is the study of written or published works.
Philologists work with history and text, as well as literature and language. They're required to be subject matter experts in all these fields and, therefore, must rely on various skills and knowledge. They can be employed in many different settings, but the role is most associated with academia and science, as well as sharing philological principles with students or other audiences.
Here are the main responsibilities of a philologist:
Study texts for structure and language, including morphology, their original form, accent, language and grammar.
Analyze archaic or obscure languages, and possess a comprehensive knowledge of them.
Decode and investigate ancient languages from archeological artifacts.
Undertake historical and comparative analyses of text to trace the origins or development of languages and syntax.
Verify accuracy (or legitimacy) of written records.
Author reports and summaries of the study of literary texts.
Write journals and articles relating to philology.
Travel to locations to gain a better understanding of both historic and current languages there.
Speak at seminars and lectures on various philology topics.
Possess a creative commons attribution license in order to share and study texts as required.
What the job is like
Philologists work in varied settings, depending on the industry or sector they're based in.  The role's working environment, hours and job satisfaction are outlined below.
Work environment
Philologists are predominantly office-based, working in locations such as libraries and universities — and generally at desks. Nevertheless, some travel might be needed to visit some texts in situ.
The role requires plenty of concentration and focus, so the general working environment will be based heavily on solo working, and plenty of quiet time. Risks of the role are limited, but the need to visit archeological sites and handle chemicals that are used to preserve texts might require personal protective equipment and extra care.
Work hours
Philologists will generally have a good work–life balance. The role will most often operate during office hours, but philologists employed in the educational sector might have to work overtime to prepare for lessons or complete marking or research. Since some philologists have to travel, time away from home traveling might add to the weekly hours or sense of workload.
Job satisfaction
One of the most predominant concerns that many philologists have is finding relevance to what they do, and generally find that their role is narrow in remit and that their skills are not always required in the employment market.
Nevertheless, philologists — as part of the wider sciences sector — generally report great job satisfaction, and consider their work as important to widening society's understanding of their field (in this case, languages).
Some of the complaints that scientists have about their work is the level of pay, and also a lack of diversity in the workplace.
Job market 
The perception of the limited part that philology has to play in sciences is somewhat reflected in a slow job market. The profession, within the wider social sciences field, is expected to grow, but only by around 600 jobs (2%) from 2021 to 2031, according to the Bureau of Labor Statistics. This slow growth is attributed to a small job market in general, greater automation of analytical processes, and the role being merged with other areas of research.
Salary
Philologists earn an above-average wage in the US, with an average salary coming in at $90,900 compared to the national average of $58,260, based on the latest BLS data. The percentile range is very wide, with entry-level roles at the 10thpercentile coming in at $50,230 annually ($24.15 per hour) and top-level earners at the 90thpercentile taking home a salary of $133,240 ($64.06 per hour).
What you earn will very much be dependent on your experience and the remit of your role. Put simply: the more you know about philology, the higher your salary could be.
The top-paying state for philologists is Virginia ($116,180), followed by Maryland ($108,740), District of Columbia ($107,100), Connecticut ($105,380) and Washington ($97,930).
Here's a quick rundown of philologists' earning potential in the US: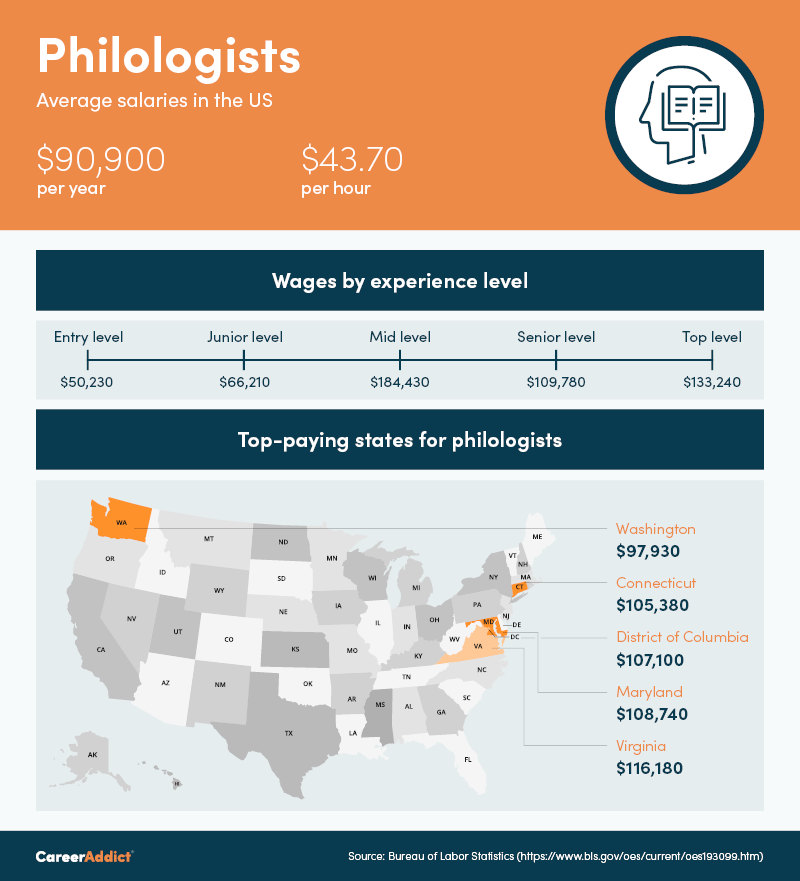 Essential skills and qualities
Given their prominence in academia and the intricacies of studying and analyzing languages, philologists must be able to draw upon many different professional skills — and in particular:
A thorough understanding of various languages
Research skills
Analytical abilities
Writing and interpretation skills
An excellent attention to detail
Logic skills (to enable you to find patterns and trends in text)
Focus and self-management
Presentation skills (for communicating ideas to large audiences)
Networking and relationship management (for the times where you might need to draw upon other peoples' expertise)
Steps to become a philologist
So, if you've gotten this far and feel that becoming a philologist is the right role for you, then you need to begin to consider what you need to do to get started in this career. This section takes you through what is needed to become a philologist, from preparing yourself for the role to schooling requirements, and postgraduate education to subsequent initial steps into the career.
Step 1: Determine if it's the right job for you
Being a philologist is a complex and challenging career, and one that takes a lot of predation, time and education to get started in. It is, therefore, important to take time to seriously consider whether it's really the career for you.
Think about the skills needed to become a philologist, and ask yourself if these are skills you have and enjoy using. Seeing as so much of being a philologist is a labor of love, having an interest in philology, including a love of learning and literature, is essential. (A good introduction into the world of philology can be gleaned by reading Philology: The Forgotten Origins of the Modern Humanities [paid link] by James Turner.)
If you're not sure what an ideal career might look like for you, then consider taking our online careers assessment over at CareerHunter. This career test evaluates your skills and interests, and recommends suitable career paths, helping to demystify the tricky task of job searching.
Step 2: Focus on the right subjects at school
A career in philology begins in earnest at school, where undertaking certain subjects will help you in your journey to achieving the right bachelor's degree and further education that the role requires.
At school, the subjects that will help you get a head-start in your philology career are predominantly languages, including English literature. Other languages are an advantage but learning classical languages such as Latin and ancient Greek will be particularly advantageous.
Other subjects that will be useful are history, biblical studies, science and math, the latter being particularly helpful for learning analytical principles that a successful career in philology requires.
Step 3: Earn a bachelor's degree
Plenty of higher education is required for a career as a philologist, so an aptitude for study and good grades all the way through your education is essential to have the best career possible. The first step in this process is obtaining a bachelor's degree.
The best bachelor's degrees to support the study of philology will be those related to the classics, such as ancient history, classical civilization, or Greek or Latin philology (or at least concentrations in these subjects). Literature, linguistics or philosophy are also good degrees to consider. A bachelor's degree will take between three to four years to complete and will set you up for a master's degree.
Step 4: Pursue a master's degree
Obtaining a master's degree will require a further two or three years of study. After the completion of a master's degree, you can enter the workforce as a philologist or use the experience to prepare yourself for a doctoral program, which is the best way to get a good start in the profession.
A master's degree might build upon what you learned in your bachelor's degree and, therefore, the two degrees might be closely aligned (or you might choose to do a master's in philology or linguistics). Either way, a good command of classical languages, as well as one or two modern European languages, will be important to be accepted onto a master's degree program.
Step 5: Complete a doctoral program
A doctoral program in philology is an important next step. This will also take between two to three years and require you to undertake coursework, research and writing (and critiquing) a thesis or dissertation. Whereas you can complete a doctorate in philology, other subject areas could also be options, such as literature, classics or languages.
Step 6: Obtain a postdoctoral position or fellowship
Postdoctoral roles and fellowships combine further study of philology or classics with practical, first-hand experience of the role. These fellowships might be based in the US, or further afield, where access to key texts might be easier.
This has the added benefit of exposing you to overseas work and living, and will look particularly good on your résumé when it comes to applying for philologist roles or faculty positions. Postdoctoral roles and fellowships last usually up to two years and can be renewed if needed.
Step 7: Apply for faculty positions
One effective way to get started as a working philologist is to apply to faculty roles. These are teaching positions in universities or colleges that predominantly seek to employ newly qualified philologists to translate and research texts, as well as publish reports and articles on their contents. There will be teaching exposure too, either by supporting lecturers or coaching students with their work.
Depending on the university, you might spend more time in lectures and teaching, or have more focus on the academic side of the role. It's best to research these roles to understand what you'll be doing and if this aligns with your expectations.
Key takeaways
Being a philologist is a rare but interesting profession that draws upon many fascinating areas, such as furthering our understanding of text and languages, as well as enabling you to research the history and context behind the written word. This is a heavily scientific role steeped in research and knowledge and, as such, takes a lot of preparation and education in order to start work.
Preparing to become a philologist begins from an early age. You must put the hard work in at school and learn the right subjects, before embarking on a lengthy and progressive higher education pathway to prepare you for a faculty role, which is usually the best way to start your philology career. After this, you can progress to pursue a fellowship or become a freelance researcher, pulling more into a profession that serves to educate and inspire, as well as enabling you to visit countries and locations rich in history. Good luck!
Got a question about becoming a philologist, or want to share your own experiences as you navigate your way into this exciting field? Let us know in the comments section below.
Originally published on January 6, 2015.