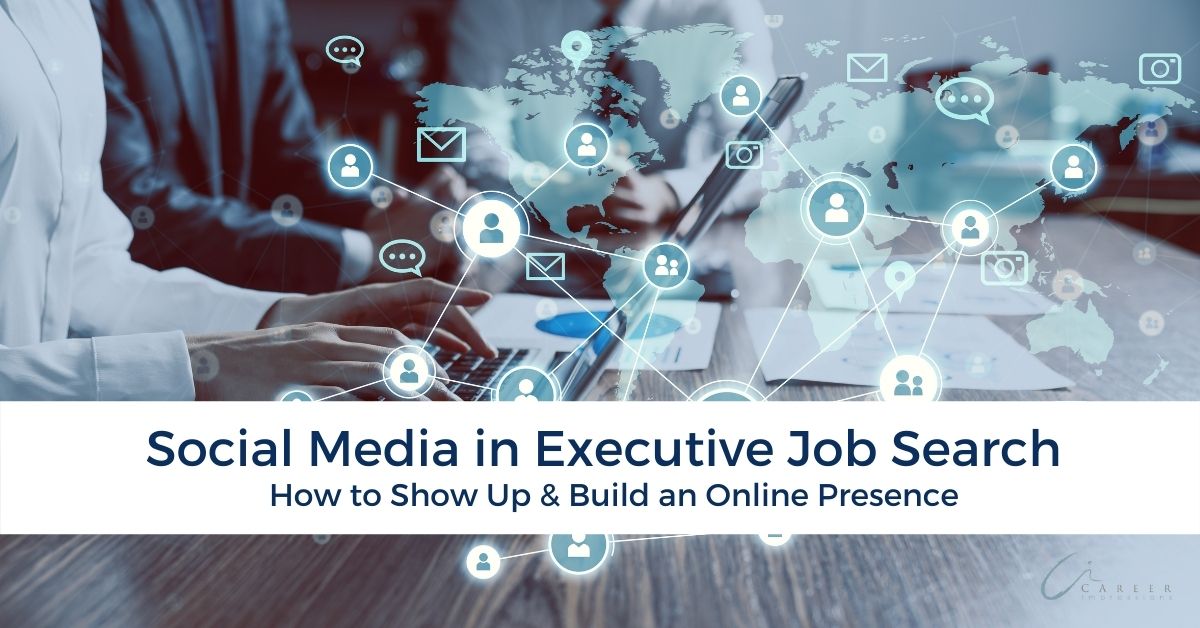 Social media is an incredible executive search tool that will help you get in front of recruiters and potential employers who are actively looking for jobs. Learn to use it well and it can become your secret weapon. Many executives underestimate the power of social media, which is why it's often underutilized in their prospecting strategy.
Using social networks when searching for executive vacancies
Audit your online presence
If you're new to building an online presence, a great place to start is with an audit of your current platforms. Open your incognito browser and Google your name to see what social media platforms come up.
While you don't need to show up and be active everywhere, potential employers and recruiters should be able to find you with a simple Google search.
Knowing where you are, what images are attached to your name, and what people are saying about you gives you a starting point in creating an online presence that can help you find your next executive position.
Choose your platforms
Facebook, Instagram, LinkedIn, TikTok, Twitter – your possibilities are endless. It's a good idea to pick one platform and go all-in rather than spread out trying to appear everywhere. Reach out to your industry's thought leaders, recruiters and hiring managers and show them where they are active.
LinkedIn is the obvious choice for many executives, but depending on your industry, Facebook, Instagram, and Twitter can also be useful.
LinkedIn:
LinkedIn is the world's largest professional network 810 million members in more than 200 countries and territories worldwide. This social media site is an incredible networking tool and great resource for accessing job postings, conducting job research, and building thought leadership.
According to a post from Influential Executive: "most Fortune 500 CEOs are on social media". I statistics suggest that "more than one in eight LinkedIn users make decisions."
Facebook:
Many employers advertise jobs on Facebook. Following an organization's Facebook page can give you early access to job openings and help you stay up to date with what's happening at the company.
Also, Facebook is known for its trusted groups. Look for opportunities to find and join like-minded groups on the site – even if they're not work-related. For example, a search for "executive groups" on the site brings up executive networking groups, women's networking groups, and career networking groups. Participating in any of these groups can bring you into contact with new people, ideas, potential clients or opportunities.
Instagram:
Instagram is the perfect choice for executives working in creative industries. As a visual platform, you can build your personal brand while showing off your social media skills.
Search and use hashtags to identify other people or pages of interest. Get involved on the site and create your own visibility to get noticed.
Twitter:
One of the benefits of Twitter is the ability to communicate freely with recruiters and hiring managers. It's also a great way to keep track of open jobs and upcoming events at your target companies.
Some hashtags to follow on Twitter if you're looking for a job might include #executiveresume, #executivesearch, and #executivejob. But don't just scroll and hide. Control your narrative by building a strong profile, sharing tweets and posts that demonstrate your authority on a topic, and building connections.
Stay active and up to date
To make the most of social media during your job search, you'll want to keep your profiles, bios, and images up-to-date. Be engaged and active on social media to expand your reach, make you top of mind and create great conversations and new connections.
Creating content on social media is an incredible way to position yourself as an expert in your field. Even if you don't create your own content, sharing articles from leaders in your industry (with your insights) is a great way to show potential employers that you're relevant and willing to learn.
Build your brand strategically
Strategy plays a significant role in achieving social media success. A a strategically built brand will help you get in front of the right people and position you as a thought leader and ideal candidate.
When building your personal brand, ask yourself questions like:
How do I want people to see me?
What do I want to be known for?
What keywords do recruiters and employers use when searching for my position?
Where do they hang out on social media?
Grow your network
Networking is an important component of the job search and one of the main ways to find employment. Social media is an incredible way to meet new people and expand your networkespecially if the number of personal events is limited.
Reach out to connections for information, advice and introductions to hiring managers. Stay in touch and keep in touch with your new contacts on a regular basis.
When used strategically, a strong social media presence can help you expand your network, build your brand, and get your name in front of recruiters and hiring managers. Knowing how to navigate the world of social media is quickly becoming an essential tool in your job search toolbox. It might just lead you to your next executive position!
For more tips, scripts, and resources to help you use social media in your executive job search, Visit Job Search Journey.