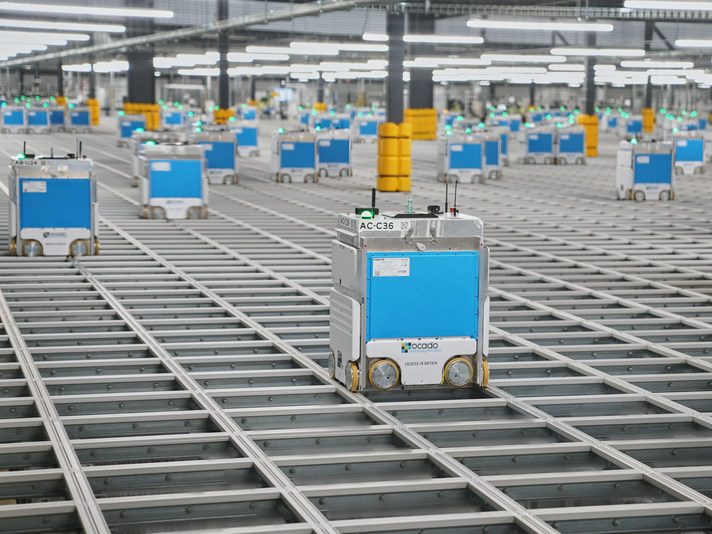 The facility, operated by Ocado Group, will also serve three spokes.
Kroger Co. continues to build out its delivery network that uses artificial intelligence and automation, building on a partnership with a British grocery e-commerce technology company The Ocado Group. The largest grocery retailer in the United States has opened a 350,000-square-foot customer service center in Dallas.
The facility at 4221 Telephone Road has created more than 500 jobs. A joint venture between Ridgeline and Archway sold the 56-acre site to Kroger in late 2019 after the Dallas City Council approved a $5.7 million development incentive package, according to Dallas Morning News.
The two newest distribution centers, Dallas and another in Pleasant Prairie, Wisconsin, bring the total number of such centers to five. To optimize and expand its delivery network, Kroger plans to open placement of additional spokesincluding Austin, Texas and San Antonio.
Both cross-dock centers, as well as one in Oklahoma City, will work with the recently opened center in Dallas. Kroger expects to complete a 70,000-square-foot lease for the Austin location, as well as a 67,000-square-foot contract for the San Antonio property.
Expansion plans also include a 40,000-square-foot hub in Nashville, Tennessee, which will serve a 375,000-square-foot customer service center in Forest Park, Georgia, and an 80,000-square-foot support facility in Pleasant Prairie . center that spans 340,000 square feet. Each spoke is expected to bring 180 jobs.