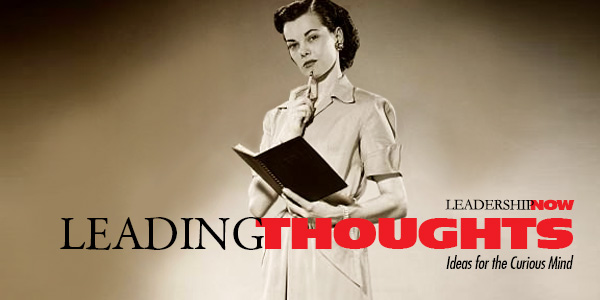 Main thoughts for July 28, 2022
iShared DEAS have the power to expand perspectives, change mindsets, and move lives. Here are two ideas for the curious mind:
i
Betsy Myers on how leadership is about how you make people feel, not just about work, but about yourself:
"The truth of life is that it doesn't unfold through lofty mission statements and doesn't happen in broad strokes. This is a personal, daily experience for each of us."
Source: Take initiative: Motivate, inspire and bring out the best in yourself and everyone around you
II.
Mike Thompson to become a demanding leader:
"Being a shrewd leader is not about making a good decision, but rather forming the habit of making good decision after good decision. To become a discerning leader, you need to immerse yourself in a constant state of evaluation. This means continuously gathering and analyzing information, seeking different perspectives, and scanning the horizon for future shifts. Because these leaders never see their decisions as static, they are not consumed by trying to make the perfect choice. They can move forward with confidence knowing that they can and will make adjustments as they go."
Source: A Leader Everywhere: How to Lead and Succeed in Any Business Environment
* * *
Look for these ideas every Thursday on Leading blog. Find more ideas on Advanced thoughts index.
* * *


As with us
Instagram
and
Facebook
for additional leadership and personal development ideas.

Posted by Michael McKinney at 06:23 AM

Permalink
| Comments (0)
| This post is about Advanced thoughts