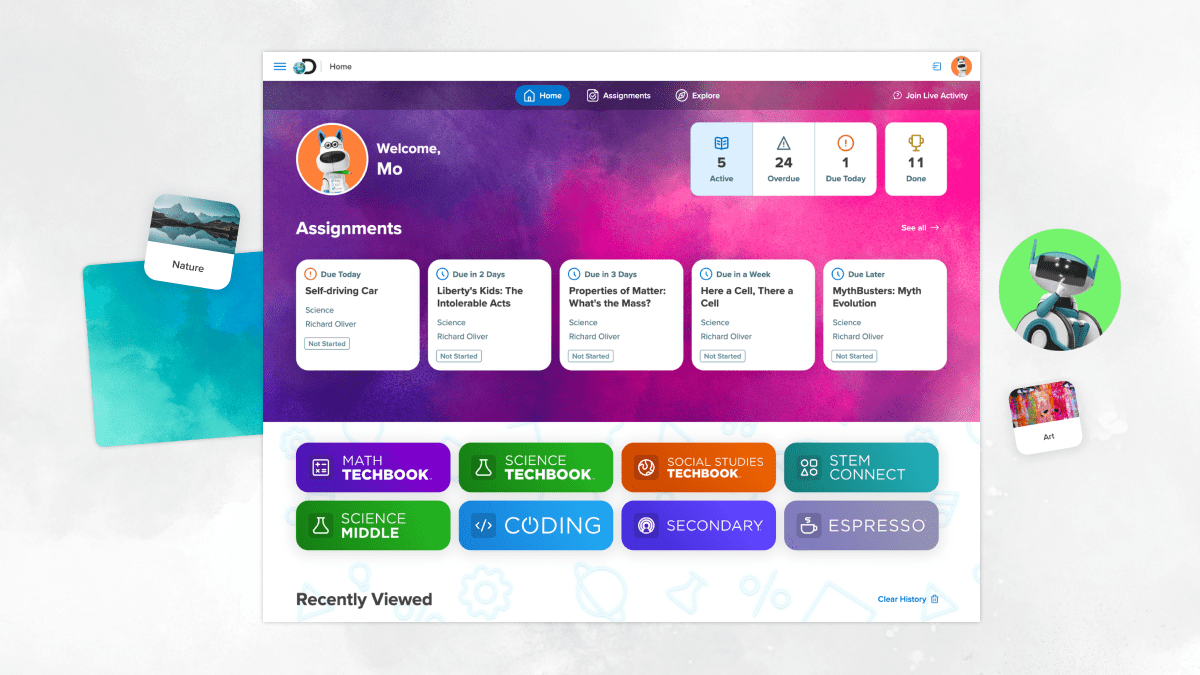 Get ready to go back to school with the latest news from DE!
Whether you prefer DE-made or you-made, we've made it easier—and more intuitive—to find, create, and deliver engaging lessons that engage students, no matter what you're teaching.
Easily find resources for daily activities that save time
From game-based interactive elements and ready-to-use activities to learning strategies and professional learning support, it's easy to find what you need, when you need it. Improved search options and improved navigation on our new Explore page let you browse by topic, then offer personalized suggestions based on your activities, grade level, and topics of interest.
Get creative with the studio
Start this school season with Studio – now with an accelerated workflow and several other cool tweaks that will make it your favorite tool for everyday learning. Take advantage Tons of ready-to-use actions or build your own! With Studio, you can quickly modify a Made by DE learning activity, start from a template using proven SOS strategies, or start from scratch and let your creativity run wild.
Our latest updates give you the ability to:
A quick preview of a lesson or Studio session from the student's perspective.
Use the images as buttons to navigate students through the activity.
Try new fun fonts and animated buttons to bring your lesson to life.
Provide assignment time and promote student agency
The DE platform provides a brand new experience for students just in time for the new school year. Now your students can use:
Updated Tasks section to make it easier to prioritize, start and complete tasks.
Personalization options that allow you to improve the appearance of the home page.
A new Explore page that helps them immerse themselves in DE resources with improved search filters and curated content collections.
And don't forget that our lessons are easy to present to whole classes, or you can assign and share through our integration with the most widely used EdTech tools and learning management systems. Conduct lessons quickly and easily, no matter where the learning takes place!
Monitor student progress and encourage active learning
Whether it's for back-to-school or beyond, find ways to improve instruction to close learning gaps while keeping all students motivated with a new way to view student progress and an even larger library of pre-made tests!
Our fun quiz tool gives you multiple ways to promote active learning in the classroom and track progress in real time. Get started right away with the Quiz Library, featuring over 400 pre-made assessments that perfectly match our content.
When it's time to grade, the completely redesigned My Classrooms experience provides a more intuitive way to navigate between tracking student progress and keeping an eye on assignments. This enhanced view helps you better assess and understand where students are, where they need to be, and the best way forward.
No matter what you teach or how your students learn, you can count on DE for a seamless daily experience that meets your classroom needs. Log in today to learn more!
Post School Survival Guide first appeared on Discovery Education Blog.