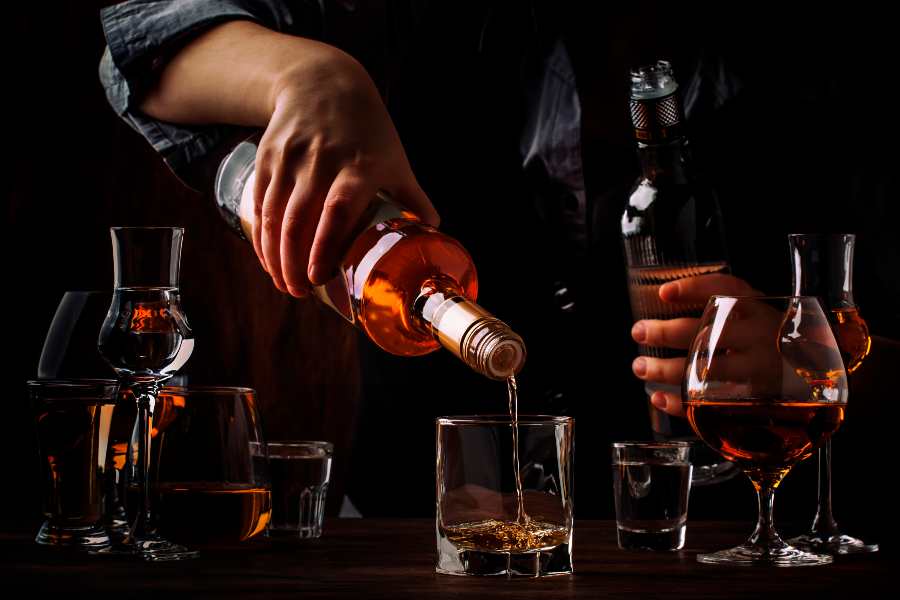 Small business owners who sell or serve alcohol need to ensure they have the best protection in place. We researched more than 20 insurance providers using our evaluation system focusing on financial stability, policies offered, customer satisfaction, and convenience to find the six best companies offering liquor liability insurance.
Top Liquor Liability Insurers Compared
The Hartford: Best Overall for Liquor Liability Insurance
Overall Score: 4.75
OUT OF 5
RATING CRITERIA

Financial Stability
5.00
OUT OF
5
Customer Satisfaction
4.00
OUT OF
5
Convenience
5.00
OUT OF
5
Policies Offered
5.00
OUT OF
5
What We Like
Claims services 24/7
Online quoting and binding
Customer complaints below the national average.
Available in all 50 states and Washington, D.C.
Deciding Factors
In-house claims: The Hartford handles claims directly rather than with third-party vendor contracts
Online portal: Gain access to important policy documents instantly
Independent agents: Available to advise you on your policy
Historical reputation: More than 200 years of experience covering losses
The Hartford scored best overall at 4.75 out of 5 for liquor liability insurance due to excellent customer service, convenience with quoting and binding, financial rating, and years of experience. It also ranked best overall in our Best Small Business Insurance guide.
Regarding policies available, The Hartford offers a liquor liability policy available as a standalone policy or as an endorsement of an existing general liability policy. If you have a business that occasionally hosts events, The Hartford includes Host liquor liability coverage in the general liability policy. It also offers multiple policies for small business needs, including workers' compensation insurance or a business owner's policy (BOP).
With more than 200 years of experience, you could say that The Hartford has insured American history. Currently, it insures more than 1 million small businesses. While being an established carrier isn't always to the policyholder's benefit, in this case, The Hartford has created a wide range of services to your advantage, including the ability to request a certificate of insurance (COI) through your online account.
Its customer service and convenience are top-notch as well. From 24/7 availability to a lower than average complaint level with the National Association of Insurance Commissioners (NAIC), The Hartford is focused on providing excellent service to the policyholder.
It's important to know that your carrier is financially stable. The Hartford has maintained a solid financial position for many years with an A+ rating with AM Best.
For those looking to save money, The Hartford offers several ways to save. It lets you pay your entire premium up front at a reduced rate. If that isn't feasible for your business, it also offers premium discounts if your employees participate and complete alcohol service training.
A general liability policy through The Hartford with liquor liability added for a restaurant with a $2 million limit costs $153 a month.
Progressive: Best for Bundling Insurance
Progressive

Overall Score: 4.25
OUT OF 5
RATING CRITERIA

Financial Stability
5.00
OUT OF
5
Customer Satisfaction
4.00
OUT OF
5
Convenience
3.00
OUT OF
5
Policies Offered
5.00
OUT OF
5
What We Like
24/7 claims service
A user-friendly app
Available in 49 states
Ability to bundle policies
What's Missing
Have to call to finish the quote
Cannot bind your policy online
Have to call for your COI
Deciding Factors
App: A user-friendly app to manage your policy
Online claims: Report your claim online in minutes
Independent agents: Available to advise you on your policy
Policy options: Multiple types of commercial policies available
Progressive Insurance is an excellent choice for your liquor liability needs with a standalone policy or as an endorsement on its general liability insurance. Not only does it have 50 years of experience writing commercial policies, but it also has a wide range of products that can complement your policy. With its great reputation and policy offerings, we scored it a 4.25 out of 5 in our evaluation. We also ranked Progressive best for a business that serves alcohol but needs to bundle multiple coverages.
Progressive Insurance started in 1937 and began offering commercial insurance about 50 years ago. Today, it's the third-largest insurance carrier in the United States. Since its founding, Progressive has developed multiple types of policies to meet the needs of small businesses, especially ones that work in the transportation industry. Progressive offers more than 30 different types of business liability and is the #1 commercial auto insurance in the US.
This provider is best for small businesses that, in addition to needing liquor liability, may have a commercial vehicle that needs to be insured. Suppose you have a brewery or distillery owner who, in addition to serving alcohol at your business, delivers it to local markets. In that case, you should consider Progressive for your fleet. It's a great match, not only for your liquor liability but also for its commercial auto offerings.
Financially, Progressive is a well-respected provider with solid ratings from Moody's to AM Best, which gives it an A+.
While Progressive doesn't deliver all of the convenience and customer service that The Hartford provides, it still offers a 24/7 claims line and the ability to obtain an online quote for most of your business needs. However, depending upon how you answer some of the questions during the quote process, it may request you call to speak with a representative more in-depth about your business.
The average cost of a general liability policy with Progressive is $65 a month.
Nationwide Insurance: Best for Breweries
Nationwide Insurance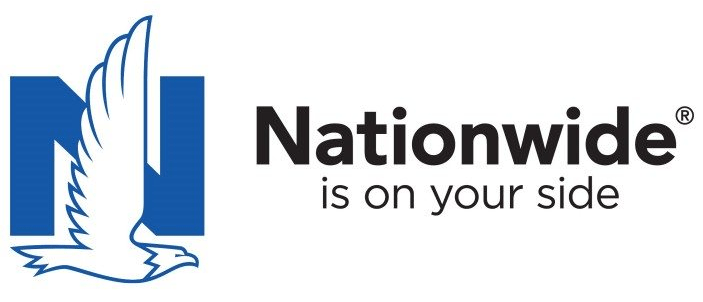 Overall Score: 4.25
OUT OF 5
RATING CRITERIA

Financial Stability
4.00
OUT OF
5
Customer Satisfaction
4.00
OUT OF
5
Convenience
4.00
OUT OF
5
Policies Offered
5.00
OUT OF
5
What We Like
Strong financial rating
Customer service availability
Convenient quoting process
Complaints lower than the national average
What's Missing
Need to speak to an agent to finalize and bind a policy
Liquor liability only available as an endorsement
Deciding Factors
Experience: Insuring breweries and their associated risks
App: Instant access to your policy
Large selection: Between standard commercial and agribusiness, a large array of available products
Bottling and distribution: specialty coverage for distributors
Nationwide Insurance offers liquor liability insurance as an endorsement to its general liability policy, scoring a 4.25 out of 5 in our evaluation due to convenience, customer service, and financial rating. it has decades of experience writing insurance specifically for breweries. Nationwide's range of customer service, its financial rating, and the ability to add liquor liability as an endorsement make it the best choice for someone looking to insure their brewery.
Founded in 1926, Nationwide Insurance is approaching the century mark for writing and selling insurance. It isn't surprising with that many years of experience that Nationwide has maintained a high level of financial stability among the rating systems. It has received an A+ rating consistently from AM Best since 2002.
You can trust the customer service of Nationwide to always be there for you. Whatever you need is available to you quickly between its app, online options, and 24/7 call center. As a business involved with liquor, you'll want to ensure you have access to a COI. Nationwide can provide you with a digital copy very quickly.
Today, Nationwide provides coverage for more than half a million small businesses across the US. Its brewery policy is customizable with many different endorsements, such as a general liability enhancement option to list vendors as additional insureds. Nationwide provides risk control services for your brewery to help minimize the chance of an incident.
Nationwide also offers a beverage and bottle distributors policy through its Agribusiness division. This policy includes many bundling options, including fleet insurance and an umbrella liability policy. If you have a bottling company that bottles alcohol and has a public tasting room, you'll want to consider Nationwide for your liquor liability and additional business needs.
A general liability policy with a liquor liability endorsement and a $2 million limit for a brewery costs just $51 a month.
biBERK Insurance: Best for Restaurants
biBERK Insurance

Overall Score: 3.75
OUT OF 5
RATING CRITERIA

Financial Stability
4.00
OUT OF
5
Customer Satisfaction
2.00
OUT OF
5
Convenience
4.00
OUT OF
5
Policies Offered:
5.00
OUT OF
5
What We Like
Quick online quotes
Instant access to a COI
Affordable
Part of the Berkshire Hathaway Group
What's Missing
No 24/7 call center
Week-day only services
No App
Deciding Factors
Business purpose: Exists to cover small businesses
Broad appetite: More than 50 different small business industries covered
Ease of use: Online platform is quick and easy to use
No brokers: Policies offered directly from biBERK
biBERK is the first insurance company on this list that writes exclusively for small businesses. Its policies are, on average, 20% lower than competitors because it has eliminated brokers from the process. Because of its affordable policies, biBERK is the best insurance company for restaurants that serve alcohol. biBERK has a great online user interface, making it easy to get quotes and purchase a policy quickly. biBERK scored 3.75 out of 5 in our overall evaluation with positives like quick online quotes, affordability, and easy proof of COI.
While biBERK isn't a company specializing in liquor liability, it specializes in insuring small businesses with packages tailored to each industry, including restaurants. biBERK provides six different options for liquor liability. None of those options are for a standalone policy and are an add-on to its general liability policy.
The Berkshire Hathaway Insurance Group founded biBERK in 2015 to provide insurance for small business owners. Berkshire Hathaway also owns GEICO Insurance. Since biBERK is part of Berkshire Hathaway, it has a Superior (A++) financial rating. It's the first company on this list to have a Superior rating.
Because of its relationship with Berkshire Hathaway, biBERK has access to many customer support and claim services you would expect from a much larger carrier. Generally, newer carriers will contract out much of their services, including claims, to third-party vendors. But biBERK has built out an in-house claims and customer service department.
Since biBERK targets small business owners, we feel that this is the best provider if you're a restaurant owner. The average profit margin for a restaurant is between 3% and 5%, so any opportunity for savings is something that a small business owner will want to consider. With biBERK's advertised lower prices of up to 20%, biBERK is the best choice to purchase liquor liability for your restaurant.
It costs $25 a month to add liquor liability to an existing general liability policy with a limit of 1 million for your restaurant.
Westchester: Best for Bars
Westchester

Overall Score: 3.75
OUT OF 5
RATING CRITERIA

Financial stability
5.00
OUT OF
5
Customer Satisfaction
4.00
OUT OF
5
Convenience
2.00
OUT OF
5
Policies Offered
4.00
OUT OF
5
What We Like
Tailored policies
Financial security of Chubb
Specialty policy for liquor liability
Below average in customer complaints
What's Missing
Quotes via agent only
Instant COI unavailable
Deciding Factors
Specialty carrier: Designed for niche industries
Appetite for risks: Willing to offer coverage when others won't
Off premise operations: Covered under same policy
Broadly available: Available in nearly every state
Westchester Insurance offers a $2 million liquor liability policy that is monoline, meaning it's a standalone policy. Since its policy has no cap on alcohol sales, Westchester is the best provider for bars scoring in our overall evaluation at 3.75 out of 5. And unlike many other providers, Westchester offers assault and battery coverage as an endorsement. Most providers won't provide coverage if your establishment has live entertainment, but Westchester has decided entertainment is an acceptable risk.
Westchester is an excess and surplus specialty insurance company owned by the Chubb Group. While the Chubb Group purchased Westchester in 2015, that's not the start of its story. Westchester insurance has been around for more than 150 years and is available in 49 states and the District of Columbia.
Belonging to the Chubb Group brings an international level of financial stability to this company. If you want a provider with experience in writing and the financial backing of the world's largest publicly traded insurance company, then Westchester is your best bet on this list.
Like biBERK, Westchester's target is businesses. Whether small or large, Westchester has an appetite to take on any type of business, no matter the risk. As it states, if it has to develop an innovative product that didn't exist before for your business, that's what it'll do. If you have a unique bar and are having trouble finding coverage, Westchester is a great provider to look into for liquor liability coverage.
Regarding customer service, Westchester can offer the same services you would expect from a legacy carrier, such as a staffed call center, an app to manage your policy, and an in-house claims department.
Unfortunately, quoting and binding are only done directly through an agent, and we had trouble getting a clear estimated cost for an average bar. You'll need to speak to one of its independent agents to discuss the needs of your business to get pricing. Policy limits are up to $1 million/$2 million for liquor liability.
Food Liability Insurance Program: Best for Caterers
Food Liability Insurance Program

Overall Score: 3.50
OUT OF 5
RATING CRITERIA

Financial Responsibility
4.00
OUT OF
5
Customer Satisfaction
2.00
OUT OF
5
Convenience
3.00
OUT OF
5
Policies Offered
5.00
OUT OF
5
What We Like
Instant quote and binding
Available in all 50 states
Instant COI
Same-day coverage for events
What's Missing
Weekday only services
No refunds on policies
Deciding Factors
Immediate coverage: You can purchase event insurance and be covered instantly
Business strategy: Insurance designed with food vendors in mind
24/7 documentation: Access to policy documents 24/7
Additional insureds: Add at no extra cost
Food Liability Insurance Program (FLIP) offers a liquor event policy similar to special event insurance for caterers and food vendors. FLIP liquor liability insurance is the best provider for a small catering business and scored a 3.5 out of 5 in our overall liquor liability evaluation.
What sets FLIP apart is its ability to provide quick insurance to businesses in the food sector. It has made an effort to make the quoting and binding process as fast and straightforward as possible.
FLIP offers an excellent user interface for a quick quote and insurance for various industries: restaurants, caterers, bakeries, food trucks, and concessions. Just to name a few. FLIP makes COI and other relevant policy documents instantly available to customers.
To create FLIP and sustain it, it has several business partnerships, including The Great American Insurance Group, which underwrites its policies. This partnership makes it easy to trust FLIP with your business needs because it brings a major carrier's financial stability.
The traditional liquor liability coverage provided by FLIP is an add-on coverage to an existing general liability policy. The FLIP liquor liability base policy is a general liability policy with added liquor liability, tools, and equipment coverage. You can also add assault and battery with $25,000 in coverage.
Its other offering is the special liquor event policy. This policy is usually for liquor liability only and has a time limit of several days. This policy is for caterers or vendors serving alcohol at a special event. The coverage is available for one to three days.
A $300,000 liquor liability policy for a three-day event costs $191. This policy is for an event with up to 500 participants.
Methodology: How We Evaluated
To determine which insurance companies would be the best for your small business's liquor liability needs, we utilized a proprietary evaluation system developed in-house. We reviewed over 20 insurance providers and have presented the six with the highest scores. In evaluating insurance companies, we have focused on the customer's needs. We paid particular interest to convenience, financial ratings (AM Best), customer service, types of policies offered, and the overall experience as a policyholder for a specific provider. Most people only care about insurance when they need it, and we wanted to ensure that what we're recommending is something that, should that moment come, you'll feel comfortable with your purchase.
Bottom Line
Businesses that sell or serve alcohol need liquor liability insurance need financial protection. We understand how important it's for you to have the best coverage for your business which is why we have done the work in researching the best liquor liability providers for you. If you don't have liquor liability and something goes wrong, you're going to wish you'd bought the dram insurance to protect your business. The Hartford is our best overall provider for liquor liability insurance. Visit The Hartford today for a fast online quote.