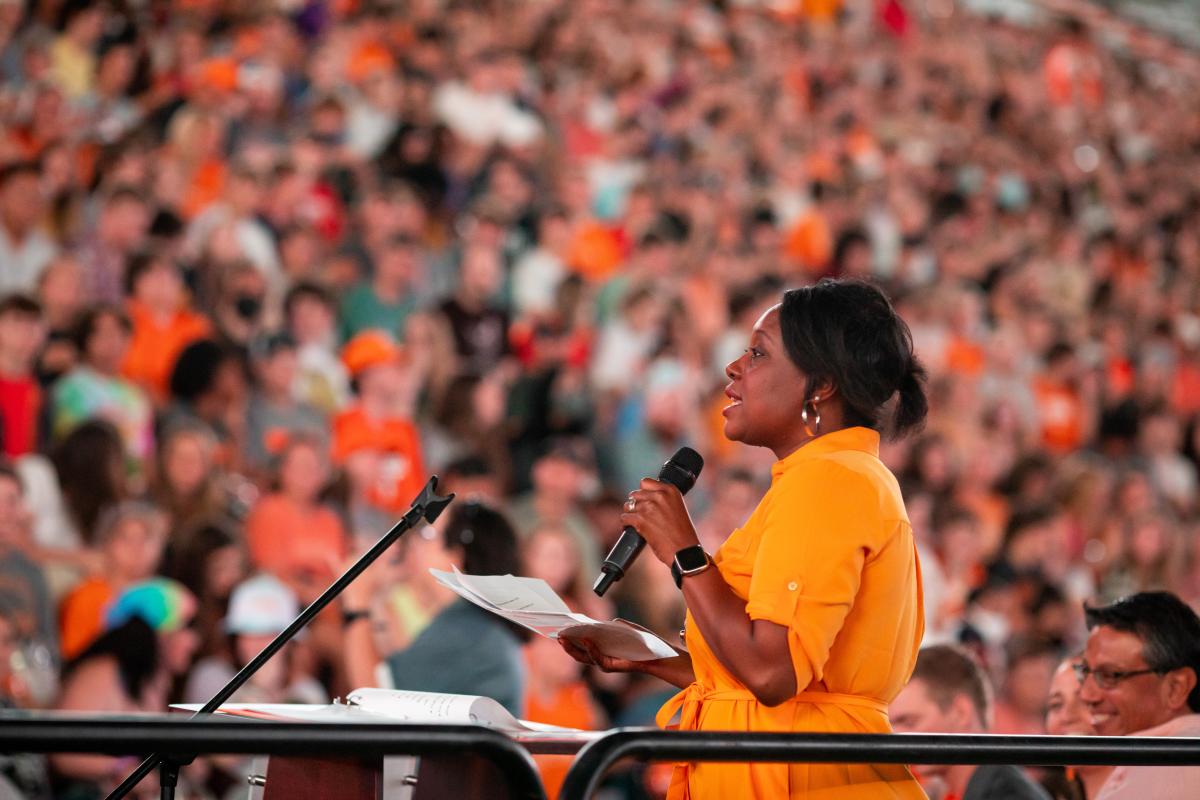 "Leading through people, priorities, and projects, in that order," is how Amber Williams describes her approach to working at LinkedIn. Building a 15-year foundation in admissions and enrollment management, Williams found herself interacting with students long after they had enrolled, which naturally extended to helping them successfully navigate campus.
Since arriving at the University of Tennessee at Knoxville in 2020, months before the pandemic began, Williams' campus involvement has included launching Vol Success Teams to help students set and achieve their goals, a first-year program that involves learning to identify and then enhance people's strengths and the UT Success Academy, aimed at maximizing the success of Black and Latino students on campus.
Her primary responsibility is broad: to serve undergraduate students and their unique academic goals.
Williams spoke with Inside the higher ed about her career path, managing her own professional development, the value of the student success offices located in the provost's office, and how others can position themselves as champions of student success.
Q: Do you remember any thoughts early in your career about the many potential challenges new students face and what they will need to succeed?
A: I have always felt this responsibility for every student I accepted to the university. My name was on the line when I recruited these students and their families.
And because of this sense of responsibility, I often offered extra support or encouragement to students who I thought could use extra help, giving them opportunities to work as student workers or ambassadors in our admissions department, for example. It helped me understand their stories and needs [and] systems and structures needed to navigate our campus. And that's how I started working on student success early on: simply by talking and interacting with our students.
Q: Can you pinpoint the moment you realized that a role focused on student success would be perfect for you?
A: Almost 15 years ago, I had a chancellor who wanted to create a program for first-generation, low-income students that was both a recruitment and retention program. The goal was not only to recruit students starting in eighth grade, but also to ensure that they were college-educated and had positive career outcomes after graduation.
He decided to take a chance and said, "I want you to run this program." I was shocked because I was an assistant director at the time, early in my career, and to be honest, he saw something in me that maybe I didn't see in myself. Although we had some problems at the beginning of the program, it is growing. This opportunity taught me a lot about leadership and helping students achieve academic success.
I played that role while still playing the intake role. Both gave me so much fun, connection and energy to come to work – it was phenomenal.
I decided I wanted to pursue successful student work full-time … when I was the Assistant Provost for Enrollment Management. I began observing the registrar's office and …realized how important the office is to the student experience, and how important strategic decisions and systems can help a student successfully navigate campus regarding their coursework, course availability, and degree timing.
I had a moment of reflection: Where do I have the most energy, passion, and purpose? And it was really in the areas where I was influencing the current student experience versus the future student experience.
Q: How have you managed your own professional development and networking, given that there is no formal organization for specialist students?
A: Many universities have positions that interact closely with student success; sometimes these positions are vice-provosts for academic affairs or related to student life or enrollment management. My role is unique because I collaborate with outstanding academic and student life partners across campus, and we are a separate unit that reports to the UT chancellor.
Our department's oversight ranges from the Academic Success Center to the Veterans Success Center, including programs such as student orientation and awards, [plus] high impact practices such as research, scholarship and career development. I share the depth of my responsibilities because it requires professional development in various sectors: academic, student life, recruitment management and more.
Much of my professional development comes from reading the journals of educators who specialize in college student success, articles in Inside the higher ed and other national trends. I am still very well connected with my Enrollment Management colleagues, which helps me a lot to understand what is going on from the perspective of the prospective student and the experience students have before they enroll. I also develop my relationships with academic colleagues across the country through conferences and organizations.
Our students are constantly changing, and the moment we, as educators, stop learning with them, we cannot support them. Understanding where students are and what they need to succeed is critical.
Q: Would you advise leaders of other educational institutions to report student success to the provost's office?
A: The structure depends on the culture of the organization and how work is done in that organization. So, I don't know if there's necessarily a one-size-fits-all approach to this. But let me say this: successful student work must be closely involved and aligned with the academic framework; we're here to help students thrive in the classroom, persevere, and graduate—ready to rock the world.
It is very important to have a good understanding of the curriculum, teacher observations and academic goals. I have amazing conversations with our provosts and academic partners to understand what they think our academics need to succeed and ultimately provide those resources to our students. At UT, my job would be much more difficult if I didn't report to the vice chancellor.
If the position of student success leader does not report directly to the provost, then radical collaboration between that leader and the provost's office is necessary to ensure that students have a meaningful academic experience.
Q: How can administrators aspiring to fill positions like yours position themselves as champions of student success?
A: First, staying relevant and data-driven is the secret to supporting students.
Second, make sure you have mentors and sponsors not just at your current institution, but around the country and in different roles. Let me define the difference between the two. Mentors are the ones you talk to about problems in your position [and] opportunities that may be out there, someone you look to for advice and guidance, who can help you think about the big picture and about potential obstacles or opportunities. Sponsors challenge you by sharing new opportunities, investing in activities you could pursue, providing dedicated professional development, or simply saying your name when you're not in the room.
I have been blessed with many sponsors and mentors. I mentioned Provost Harvey Perlman, who first encouraged me to participate in the Student Success Program. I count UT Chancellor Donde Plauman as a mentor and sponsor. She gives me advice, but also opens up new opportunities.
I had a great teacher, Colleen Jones, who saw something in me from day one. She helped me deal with many personal and professional problems. I had Susan Poser, the former dean of the law school and now the president of Hofstra University, who took me under her wing.
Mentors and sponsors are in unique positions, and it doesn't always have to be your job or the position you're looking for. All you need is someone who sees your potential and challenges you to be the best you can be.
Nominate yourself or a colleague will be featured in an upcoming Student Careers Q&A.